Application requirements:  https://www.ellipal.com/pages/tko-luckydraw
Download ELLIPAL APP
Follow   @ellipalwallet  and @tkobytokocrypto on Twitter
Prize pool: 1000 TKOs, lucky winners: 100
Reward Eligibility: As long as your TKO balance is greater than 100 TKOs.
Event date : 12:00 noon Jul 1st, 2021- 12:00 noon Jul 8th, 2021 (EST)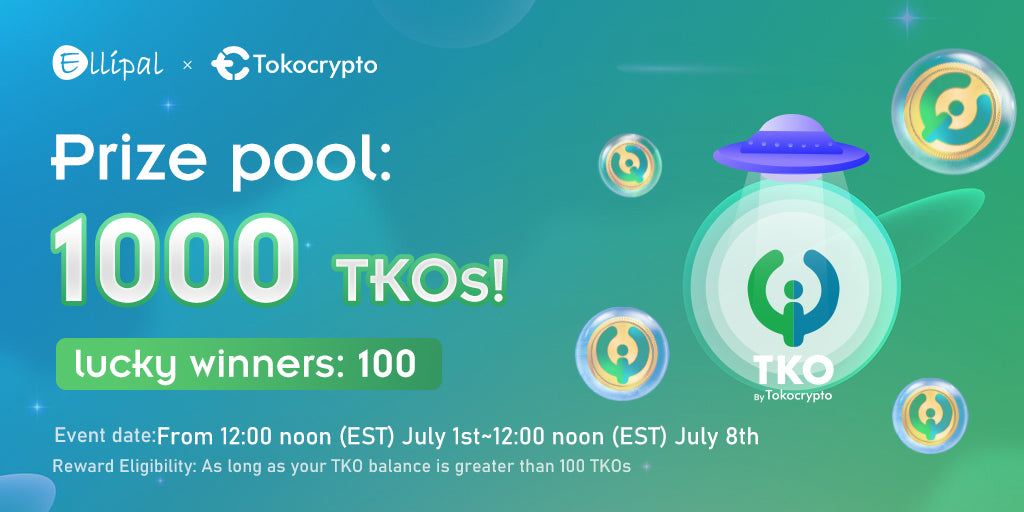 ABOUT TOKOCRYPTO
Tokocrypto is Indonesia's no. 1 most trusted crypto assets digital exchange. We are the first entity in Indonesia to be registered under the Commodity Futures Trading Regulatory Agency Indonesia (BAPPEBTI) Formed by a group of crypto enthusiasts who are strong advocates of the benefits of blockchain technology, our current goal is to help Indonesians gain a broader knowledge of the industry and to integrate the technology into the society and subsequently, the global economy.  Established in late 2017, Tokocrypto recently joined hands with Binance, the world's largest cryptocurrency exchange, to upgrade our platform to Tokocrypto v2.0 with the latest technology and security. This will allow our users to create their own alternative finance in an efficient, transparent and scalable manner with industry-grade security and liquidity. Whether you're a first-time investor or a professional trader – Tokocrypto has got you both covered!
ABOUT TKO
On April 7th 2021, a crypto star was born as Tokocrypto officially began the trading of Toko Token (TKO), Indonesia's first local crypto project. Given the utility of TKO, it is little surprise that there has been a hugely positive market response to the launch of the token on the Binance Launchpad resulting in a record-breaking 50,000% over subscription from 201,406 individuals, with a total of 10,502,201 BNB (approximately USD 4 billion in value based on the price of BNB on April 7th 2021) subscribed for the launch. The market demand for TKO was so strong that the launching price of USD 0.10 per token shot up by 3000% in a mere 30 minutes after its launch. Given the phenomenal market response to TKO's launch, it would not be an exaggeration to say that the rise of TKO as Indonesia's new crypto star has been nothing short of meteoric.
Link Reference :  
Tokocrypto's Website: www.tokocrypto.com
TKO's website: www.tkotoken.com
TKO's Litepaper : bit.ly/TKOlitepaperV2
Telegram: https://t.me/tkogroupofficial
Twitter: https://twitter.com/tkobytokocrypto