There is an exciting news here, ELLIPAL Cold wallet will be available soon PancakeSwap, you can easily SWAP in ELLIPAL.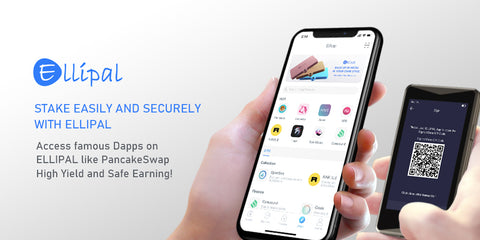 PancakeSwap is a Binance Smart Chain-powered DEX and AMM that allows anyone to swap BEP-20 tokens efficiently and safely. The platform is comparable to Uniswap in that it provides a decentralized trading experience combined with liquidity pools. PancakeSwap is the largest Dapp on the Binance Smart Chain and is seen by many as a project with endless potential. As such, the platform is very popular and currently has $4,720,303,152 in locked liquidity at this time.
The Binance Smart Chain
PancakeSwap lives on the Binance Smart Chain. The Binance Smart Chain (BSC) entered the market on September 01, 2020. This fourth-generation blockchain was designed to run parallel to Binance Chain. Impressively, BSC is far more advanced than their earlier chain. For example, the platform is capable of faster and cheaper transactions. The network features ultra-high performance and is capable of producing a block every 3 seconds. 
BEP-20
One of the main goals behind the BSC was to enable the creation of smart contracts and the staking mechanism for BNB. To accomplish this task, Binance's development team created the BEP-20 token standard. You can think of BEP-20 as Binance's version of the hugely popular ERC-20 token standard. However, since BEP-20 tokens reside on the BSC, they can be traded for far less and provide users with some unique opportunities not available on their Ethereum counterparts. 
Centralization
The first issue that PancakeSwap addresses is the growing centralization within the market. No one can argue that the DeFi revolution wasn't born on the Ethereum blockchain. Around 90% of all tokens are ERC-20 based. The standard quickly became the norm following the ICO craze of 2017. In 2020, ERC-20 tokens received another boost from the market as DeFi (decentralized finance) platforms began to launch on the network. 
While all of this development sounds amazing from the outside, it quickly becomes evident there are some problems when you enter the market. For one, Ethereum is a Proof-of-Work (PoW) network and still is plagued by scalability issues. Specifically, the transaction delays and fees go up as the network becomes congested. 
Ethereum relies on a processing fee known as Gas to incentivize network nodes to execute instances of the Ethereum Virtual Machines (EVM). Think of EVMs as smart contracts grouped to form certain actions. Today, Ethereum is busier than ever. Consequently, it costs more than ever to complete transactions. The average GAS cost for a typical transaction during 2021 so far is $20. Additionally, the network takes around five minutes to complete trades. 
Benefits of Pancake Swap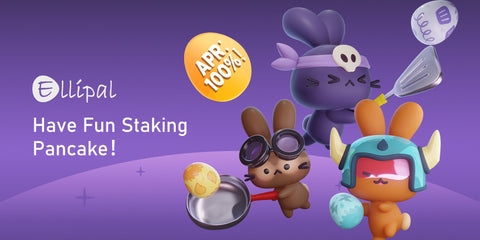 PancakeSwap eliminates all of these concerns because it exits the confines of the Ethereum ecosystem. The Binance Smart Chain was developed to streamline all of these actions and provide a more cost-effective alternative to users. This strategy has helped the platform stand out amongst the growing competition amongst DEXs.
Selection
Another major benefit gained by PancakeSwap users is access to new tokens. Wisely, PancakeSwap allows users to transfer USDT, BTC, BUSD, and ETH from the ETH chain to the BSC chain using the deposit features. You gain access to all the top projects in the market. You also can find an excellent selection of BEP-20 exclusive tokens and other rare and hard-to-find projects. 
Interconnectivity
One of the core concerns for PancakeSwap users was retaining a certain level of interconnectivity between the two blockchains. PancakeSwap's developers understood that the majority of their user base would be from the Ethereum ecosystem and they wanted to streamline this process considerably. As part of this strategy, the platform was built to integrate popular wallets, like ELLIPAL cold wallet. 
Easy to Use
PancakeSwap's interface resembles that of other popular DEX's. It's very simple to use and you don't need any prior experience to navigate through the basic trading functionalities. The platform is designed to allow anyone to maximize their profits. You can loan your digital assets to liquidity pools and in return, you receive liquidity tokens that can then be staked to earn even more profits.
PancakeSwap Transactions are Cheaper
Perhaps the biggest draw to PancakeSwap is its low fee structure. The network doesn't rely on gas prices due to its upgraded technical capabilities. This approach means that you can conduct trades on PancakeSwap at a fraction of the cost of Ethereum-based AMMs such as Uniswap and SushiSwap. Impressively the average transaction only cost around $0.08 using PancakeSwap. 
PancakeSwap is Faster
The BSC also provides a more responsive trading experience for users. PancakeSwap user's transactions complete in under five seconds in most scenarios. Faster transaction times allow investors to earn more because they open up more arbitrage trading opportunities. They also allow traders to stay ahead of trends and reduce slippage. 
Profits
PancakeSwap introduces innovative ways to create new income streams. Users can secure profits using the DEX and enjoy lower fees. They can also stake and farm their tokens to earn rewards effortlessly. The network supports the trading and issuance of non-fungible tokens (NFTs). These collectible tokens are one of the fastest-growing sectors in the blockchain market at this time. They are gaining in value quickly with some recent NFTs selling for millions.
Private
For those seeking a private trading experience, PancakeSwap is a wise option. The platform doesn't require any KYC/AML registration. You just need to link your supported wallet ELLIPAL and you're ready to start trading. For privacy-focused individuals, this strategy is considered an added layer of protection from hackers or others seeking to monitor your earnings. 
Secure
PancakeSwap has proven to be very secure. For one, it's a non-custodial DEX, meaning that the platform never holds your assets directly in large hot wallets. DEXs are much more secure than centralized exchanges for this reason. Additionally, the platform has taken some steps to help promote its secure image. For example, PancakeSwap had a third-party audit conducted by the well-known cyber-security firm CertiK. 
The audit confirmed the platform's enterprise-level security. It also gave PancakeSwap the chance to add even more features. Specifically, the developers added CertiK's Security Oracle, CertiK Shield, DeepSEA, and Virtual Machine features. While the platform is still relatively new, it has never been successfully hacked.
Deflationary
PancakeSwap integrates various deflationary protocols to help maintain its token's value. These protocols include several token burns. For example, 100% of CAKE, the platform's native token, raised in Initial Farming Offerings (IFOs) gets burned. Also, 10% of all the profits from the PancakeSwap lottery and a percentage of farmed CAKE gets burned. These systems help developers to adjust to the fast-changing pace of the market and protect their investors from loss due to oversupply. 
How Does Pancake Swap Work?
PancakeSwap operates as an automated market maker (AMM). AMMs don't rely on an order book to match buyers and sellers. Instead, the platform leverages liquidity pools and complex algorithms to link these parties directly. AMMs provide better rates, speed, and reduce slippage. Consequently, many of the top platforms in the market today, such as Uniswap and SushiSwap operate as AMMs. 
PancakeSwap Liquidity Pools
PancakeSwap users can provide liquidity to pools and receive LP (liquidity provider) tokens in return. These tokens appreciate as the pool's overall value rises. These permissionless liquidity pools allow people to earn without trading their assets directly. There are currently 69+ different liquidity pools where you can stake on PancakeSwap. On average, users earn yields that range from 23.52% to 378.19% APY. Notably, these rewards are paid out in the platform's native token, CAKE.
PancakeSwap SYRUP pool

PancakeSwap also introduces some exclusive pools to the equation with the SYRUP pools. These are liquidity pools with extremely high rewards. Some of these pools are yielding 43.33% to 275.12% APY. Additionally, you can earn other tokens aside from CAKE when you stake in SYRUP pools. Users can earn rewards in UST, LINA, SWINGBY, and more.
LP Tokens
All liquidity pool token holders gain access to multiple revenue streams just for their participation. Specifically, a portion of the trading fees generated from the platform gets redistributed to these users. Of the average 0.2% fee, 0.17% gets redistributed to LP token holders directly.
PancakeSwap DEX
Of course, the main feature of PancakeSwap is its easy-to-use DEX (decentralized exchange). The DEX was built from the ground up to provide new users access to all the features needed to trade tokens effectively. You can trade tokens in seconds. Best of all, there is an impressive selection of tokens to select from.
PancakeSwap Yield Farm
PancakeSwap supports yield farming pools. Yield farming is similar to staking in that you lend your crypto out via smart contracts to various projects and in return you receive rewards. The main difference between staking and yield farming is that there are usually no lockup periods on farming protocols.
PancakeSwap Staking
Users can stake tokens on PancakeSwap and earn more tokens with ease. Specifically, you stake CAKE on the platform. Staking is considered a better option for those new to the crypto market because it requires far less labor than trading. You don't need to monitor multiple platforms or learn advanced trading strategies to profit when staking. All you have to do is lock your crypto into a staking pool for a predetermined time and the rest is handles by the platform. Your rewards are based on the amount you stake and the length you stake.
How to Buy PancakeSwap (CAKE)
CAKE is the native utility and exchange token for the PancakeSwap ecosystem. As such, there's a lot of cool features CAKE holders gain access to. You can stake your CAKE and earn even more CAKE. The token is also how you gain access to the SYRUP pools. Notably, CAKE is a BEP-20 token that lives on the Binance Smart Chain. Best of all, CAKE is available on other platforms such as Binance's centralized exchange.
Initial Farm Offering (IFO) – PancakeSwap
Another feature unique to PancakeSwap is its Initial Farm Offering (IFO) protocols. An IFO differs from an ICO in some key ways. Instead of buying tokens directly, users must hold LP tokens from one of the supported pools to gain access to the sale of the newly issued token. IFOs are seen as more democratic and decentralized than ICOs. Best of all, new firms can launch IFOs simply by seeding a farm pool.
NFT
PancakeSwap traders gain access to the growing network of NFTs. The platform supports the trading and staking of these unique digital assets. Developers went as far as to make special NFT rewards for PancakeSwap lottery winners. These maneuvers fall in line with BSC's push into these highly profitable tokens. The network recently launched its BEP-721 protocol to simplify the creation and launch of NFTs and FNFTs (fractional non-fungible tokens).
ELLIPAL is not just a cold wallet, it can give you the path to your financial freedom.Pancakeswap is comming Soon! Staking coins right now! 
Buy ELLIPALTitan from here,https://www.ellipal.com/collections/sale