Why choose ELLIPAL Cold Wallet
Summary
ELLIPAL is the world's first cold wallet to adopt the concept of "air-gapped", offering industry-leading security to keep your cryptocurrency safe.
ELLIPAL Cold Wallet combined with the ELLIPAL App is the best solution to protect, store and manage your cryptocurrency.
The ELLIPAL App is a one-stop mobile application for managing your cryptocurrency. Buy, exchange and stake your crypto easily and securely with our trusted partners.
With ELLIPAL, you can secure, store and manage more than 10,000 cryptocurrencies.
Why choose ELLIPAL? Because we make the world's most easy-to-use and secure cold wallet, we have users in 100+ countries worldwide.
Hardware wallets are the foundation of cryptocurrency security
Along with the cryptocurrency boom, led by Bitcoin, cryptocurrency hardware wallets have become an essential tool for investors. Connecting the blockchain to a hardware wallet, creating private keys offline and keeping it in the hands of the owner, allows complete control of their cryptocurrency. There is no need to trust a third party when using a hardware wallet (trustless trust) because everything is offline. The users are 100% responsible for their assets.
Unparalleled air-gapped security
With the rapid and continuous growth of the crypto market and the launch of new coins and tokens, users are looking for more advanced and secure hardware wallets.
ELLIPAL, a pioneer in hardware wallets, has introduced the air-gapped concept for the first time in the world. The ELLIPAL cold wallet keeps remote attacks away through complete network isolation (air-gapped). It provides absolute protection for your cryptocurrency from remote and online attacks. This air-gapped hardware wallet does not rely on any wired connection (e.g. USB) or wireless connections (e.g. Wi-Fi, Bluetooth and mobile data) for transactions. The device is only compatible with your mobile application and you don't need to log in to any online portal, just scan the QR code from your wallet and phone. Air-gapped hardware wallets are called "cold wallets".
Tamper Resistant
With the ELLIPAL Cold Wallet you can have a peace of mind knowing that the ELLIPAL provides the most complete protection. The ELLIPAL Cold Wallet is completely metal sealed, with no online components or ports, the wallet is virtually indestructible to physical and online attacks. Most importantly, ELLIPAL is tamper proof to protect your cryptocurrency from supply chain and evil maid attacks, which provides very effective protection from all threats against offline attacks.
No need to trust third parties
What you sign is what you see. You don't have to trust ELLIPAL or anyone else, but you can trust Cold Wallet technology.
ELLIPAL's QR codes are publicly available in data format, verifiable and offline. You can be sure that the private key will never be transmitted through the QR code (just scan it with any scanner and check it). Without a doubt, the most reliable thing about ELLIPAL Titan is its QR code scanning feature, which requires no external device or network support, just your smart phone (with ELLIPAL App installed) and your ELLIPAL Cold Wallet. After logging into your account, you can create any transaction for a specific address on the mobile ELLIPAL App. ELLIPAL Cold Wallet scans the QR code from the app and validates the transaction, then generates a new QR code on the wallet. Scan the code with the ELLIPAL App and the transaction is securely completed.
Powerful protection system
2 Factor Authentication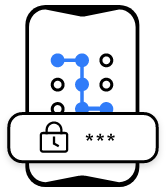 Get extra secure with both the gesture passwords and complex passwords on the ELLIPAL Cold Wallet.
Auto-self-destruct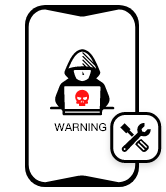 Automatic self-destruction, wiping all data if tampering is detected.
Offline Firmware Update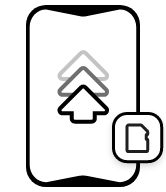 100% offline firmware updates done using SD card, no USB or any connection required.
A/B accounts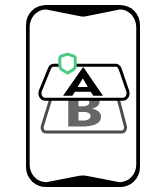 Set up an alternate account that shows up when you unlock your wallet with an alternate password to protect your primary account at gunpoint.
ELLIPAL App, making security easy
ELLIPAL App makes professional cybersecurity easy and accessible because it is designed around the user. ELLIPAL App meets the needs for every crypto investor. It is a simple, one-stop App, for easy secure management of cryptocurrency. Users can easily and securely purchase, exchange and stake their assets. 
All your favorite cryptocurrencies at your fingertips
Store coins without any limits! The ELLIPAL App lets you securely manage a wide range of cryptocurrencies. You can currently manage 41 public chains and tens of thousands of different tokens, including BTC, ETH and more, in just one account.
This means you can secure and manage all your different currencie with just one Cold Wallet device. You can take your cryptocurrency with you wherever you go, comfortably and independently.
Join ELLIPAL
The ELLIPAL is trusted by users in over 100 countries around the world, including industry leaders and expert traders. The ELLIPAL is suitable to everybody.