Cryptocurrency hardware wallet is essential if you invest in cryptocurrency. There are plenty of popular options out there, and each of them offers distinct advantages and disadvantages.
Hardware wallets are essential because it keeps your private keys offline and away from hackers. It is one of the most secure ways of keeping your cryptocurrency and more secure than any other custodial wallet.
Here are the top hardware wallet options out there if you want to secure your cryptocurrency from hackers.
ELLIPAL Titan
ELLIPAL Titan is the latest and greatest cryptocurrency hardware wallet market. It is one of the most secure hardware wallet options out there and it is backed by the strong suite of features.
The main selling feature of the ELLIPAL Titan is that it is 100% air-gapped. The wallet does not contain a single component that can connect to other devices. It also does not have a USB port. All communications are done through QR codes only. Any remote methods can never steal private keys inside the ELLIPAL Titan.
While other wallets focus on offering software security only, ELLIPAL went out of its way to make the Titan provides superior physical protection as well. It has both anti-tamper and tamper-proof capabilities that stop any physical threats if the user gets their wallet stolen.
It is now supporting 36 coins and over 1000 tokens as of 12/2020, putting it on par with major players like Trezor and Ledger. It is also made exclusively to be used with the ELLIPAL mobile App making it a very portable solution for traders. It is one of the best hardware wallets out there.
Ledger Nano S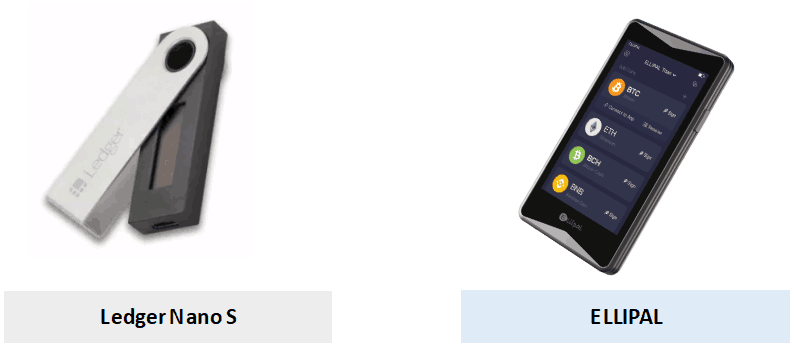 Ledger developed the Ledger Nano S in 2016, and it has been one of the go-to options for many cryptocurrency investors for years. It supports more than 1100 coins and tokens, making it one of the most versatile wallet options out there. You get access to your standard suite of cryptocurrencies like BTC and ETH, along with several upstart options that are making waves in the market. The hardware cryptocurrency wallet works with Ledger Live App that can be installed on the PC. By using a USB, the Ledger Nano S can be connected to the PC and allows the user to manage their cryptocurrency. Although it is an outdated Ledger model and had its fair share of issues, it is still one of the most used wallets today thank to being an early entrant to the market.
Trezor One
The Trezor One is one of the oldest cryptocurrency hardware wallet options available for investors. It supports most of the popular coins including Bitcoin, Ethereum, and more. Ever since its release in 2014, it has been the go-to option for many investors, but the number of cryptocurrencies it supports has fallen off over time compared to other hardware wallets. It does not support some new cryptocurrencies and is not updated as much as other options on the list. However, if you are someone who has been investing in the industry behemoths like Bitcoin and Ethereum, you should not have any trouble as all popular cryptocurrencies are covered. Trezor is also well known for being an open-source cryptocurrency wallet, but users should be careful of fake firmware and dump attacks.
KeepKey
KeepKey is a single-chip hardware wallet with 12-word recovery seed support. While it claims to be far more secure than other popular options like the Trezor and the Ledger Nano S, it is also quite steeply-priced. The design is the most significant defining factor of the KeepKey as it manages to be discreet while also offering the best features possible. Right now, it does not hold the same amount of reputation as the other options in the list, but many users still use it for its simplicity.
It is mostly designed to be used with the ShapeShift trading platform, so if you are not using ShapeShift and do not want to do any KYC, it is understandable to go for the other options. Recently KeepKey has also been hacked by Kraken exchange resulting in a negative reputation.
Ledger Nano X
Ledger Nano X is one of 2019's latest cryptocurrency wallets. It brings in advanced security technology not seen before in the Ledger Nano S. It supports all the popular cryptocurrencies available right now, and comes with secured backup options and Bluetooth support. It works with all popular computing platforms including Windows, Linux as well as mobile operating systems like Android and iOS. With Bluetooth, users are able to connect it to the Ledger Live App on their phone and use it without the PC. Being mobile supported is an improvement in terms of accessibility from the Nano S. However, users should be reminded that not all coins are available in the mobile mode and should plan their trading habits accordingly.
Verdict
The ELLIPAL Titan has been one of the hottest wallets in 2019 along with Ledger Nano X. However, its security can be said to be superior, taking into account of it being 100% offline and physically a lot stronger. It also has full coins support on mobile mode and retails at a similar price to the Ledger Nano X.
Recommend Articles: 
1. Ledger Nano X vs. ELLIPAL Titan
2. Hardware Wallets vs. Cold Storage Wallet
3. Buy Bitcoin with Credit Card, PayPal and Debit Card