Airdrop distribution from the following addresses:
CAN: 0xf9913535879141d3e59580c1a0fa6357deecf887
BACK:0x967b87598a0a8b016090f684ffbb055e37a396e6
COW:

0x577c00a7efc1

6f99e3f6414d68ee04029dd7e66e

 
BOO: 0x51DF0E7B7cFFd8EF27C75f7e2EEfA456343C54cA
BXH: 0xB433B7c25e27952144D133eFfb47ACB216AA6937
DEP: 0x5f8d1377b230ee606bfc6172d41a658ad293472b
EDC: 0x8a759f5d52790480997ac93902804cc2f8523cb5  
FILDA: 0x586caFb3388f05F1b46138367962caF8A2D77F93
HFLUX: 0x4af3f330e26bffad8450e0bdf6001b362a3295ec
LHB: 0xff48c221a22f75da2c701167ac5becc8949289e0  
PTD: 0x97ccd1b21fa7238b3dae0dc3ea2e7b989d8a849b  
Congratulations to everyone who won this airdrop!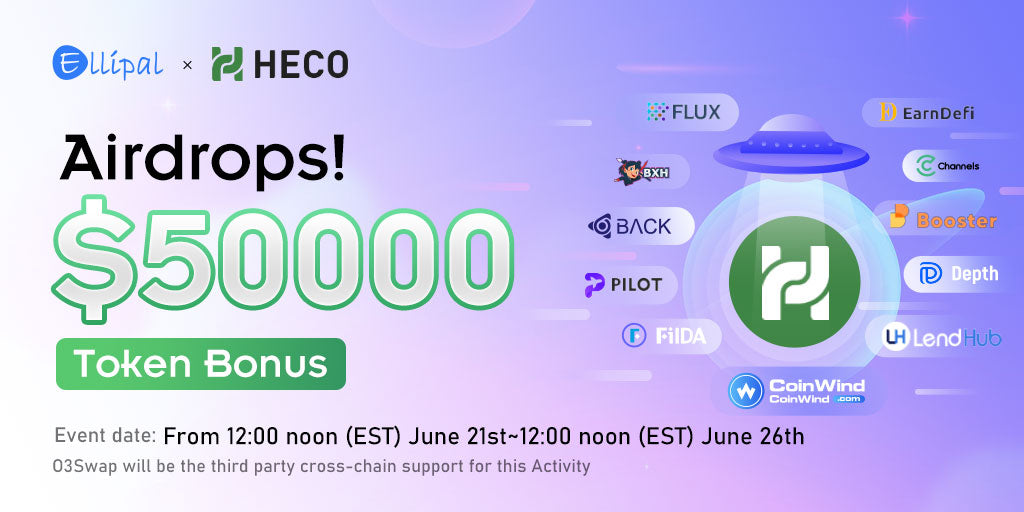 ELLIPAL is about to give out $50,000 worth of tokens in an airdrop!
Don't miss the chance!First come, first served!
Prize pool : $50,000. Daily drawing of 4,000 lucky winners for airdrop!
How to join the event?
Step 1
Application requirements.
3. Follow the Twitter of any of the following tokens:
Step 2
Submit your HT address to us at here
(If you don't know how to generate an HT address, you can click here for

a video tutorial>>>

)
Each applicant will receive a big airdrop consiting of 11 different tokens: BACK, BOO, BXH, COW, CAN, DEP, EDC, FILDA , FLUX, LHB and PTD !!!
Airdrop date:
Please follow ELLIPAL's social media for fastest updates of the airdrop date.
 Event date:From 12:00 noon (EST) June 21st~12:00 noon (EST) June 26th
For more details, visit us on