It's summertime and we are loving the vivid colors of the summer! Some of you are definitely looking for a hardware wallet that can express your summer feeling as well but there aren't any good choices on the market!
Worry not, ELLIPAL is here to give you, not only the most secure but colorful choices for you to express your summer feeling! Please note, despite the color differences, there is no difference in features and functionality.
Introducing ELLIPAL New Summer colors and new shipping options!

Summer Colors ELLIPAL Titan
Select the color you like the most for your new ELLIPAL Titan Cold Wallet! We will make it on-demand just for you! However, as we need to put it together after your order, you may need to wait up to 30 days to get your new colorful ELLIPAL Titan.
Nevertheless, as there is no inventory cost for us and to compensate for long waiting times, we give the best price for the Summer Colors ELLIPAL Titan.
Original Color ELLIPAL Titan
We understand, securing cryptocurrency with the most secure air-gapped cold wallet is a serious business and many cannot wait. Order the ELLIPAL Titan at the original price and we will ship immediately.
Right now, it is discounted at $139!
Different Options, Top-Level Security
As mentioned, regardless of the color, inside it is the always reliable and secure ELLIPAL Titan Cold Wallet. Choose the option you feel most suitable for you: Color, Shipping time, Price and we will prepare for you accordingly.
Keep in mind, whatever you choose, you will be securing your cryptocurrency in the most secure, air-gapped cold wallet with unique additional anti-tamper & anti-disassembly features.
Protect your crypto from both online and offline threats today and enjoy your summer!!! [Starting July 22th]
https://www.ellipal.com/products/golden-ellipal-titan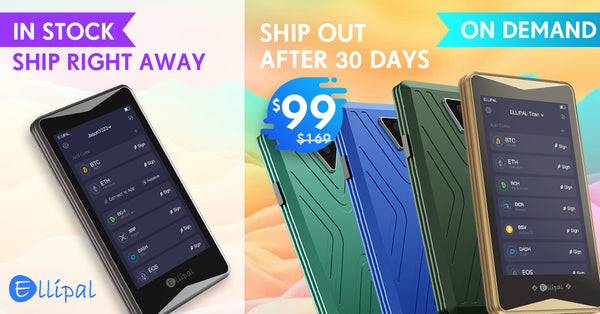 Recommend Articles: 
1. Ledger Nano X vs. ELLIPAL Titan
2. Hardware Wallets vs. Cold Storage Wallet
3. Buy Bitcoin with Credit Card, PayPal and Debit Card